WEST AUSTRALIA, FINAL (for now) POST
From Northam Stephen & I made our way back down to Perth to spend some more time with McCracken, Chris & Hastie. Stephen decided that he wanted to try his hand at cooking a roast. This was Stephen's first roast, and it was deeee-lectible! Here Stephen is seen dishing up our roast, with McCrackin standing by offering his thoughts, support & criticism.
Chris went and got his tattoo finished, it is a statue of Saint Chris, the shading is pretty amazing.
This is Brita, she is Chris' girlfriend and one of the lubliest people I got to meet on this trip, McCrackin took this picture, as well as the dozen or so other pictures very similar to this one that did not make this post.
Wednesday was Steven's twenty-first birthday, seen here (from left to write) is Chris, Leticia, Stephen & Jason. Jason works with Stephen on the mines and is a grade-A champion, he worked for 8 weeks straight, just to be around for Stephen's birthday.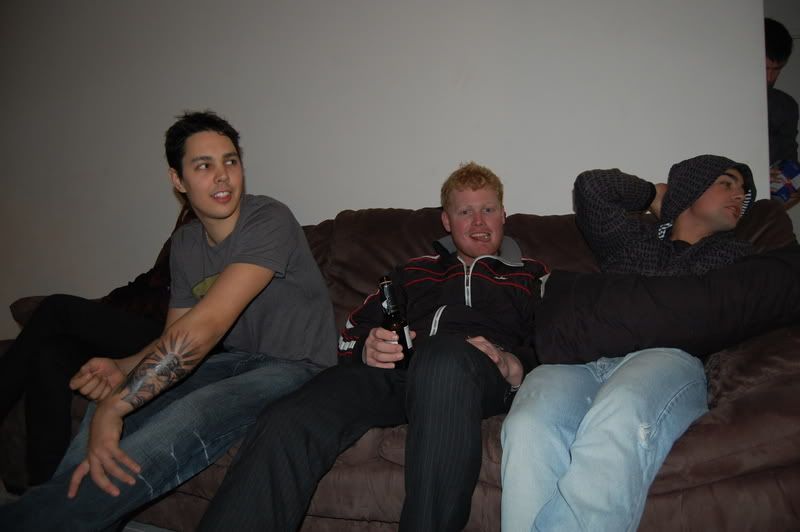 Chris, Bob, Jason. Chris can't help but show off his updated tatt. These photos show us all before we headed out to Captain Sterlings for Stebie's birthday.
The funny story about Captain Sterlings is that we all got there (in two cabs) and as we showed our I.D.'s the bouncer told me that my out-of-country I.D. would not suffice, and that I needed my Passport. So, I hopped back into a cab, Bob paid the $70 for my round trip, and I spent the next 45 minutes talking about U.S. politics, cancer, emerging research in self-help therapy & wikipedia. I love cab drivers, and If I were made of money, I'd take a cab everywhere.
The next day I woke up and packed my bags, bob came by to drop off my shoes and skateboard which I had left in his car a few days earlier, and he, Steve & I drove to the airport.
Steven, Bob & I got up to the gate (they let non-passengers go right up to where you board in Perth), said our goodbyes, had our hugs and promised to keep in touch. I got in line with my boarding pass out and couldn't help but look over my shoulder. Every time I did I'd see Stephen moving around to keep me in sight, with his hand raised high in the air, and a smile on his face. I would return the gesture, turn back to the que, and then repeat. The last time I looked back all I could see was Stebie's face, head tilted up, the reassuring smile still fixed, with his closed fist in the air, I turned around to fight the little lump growing in my neck to see a little billboard for Qantas that had been beautifully defaced with this message: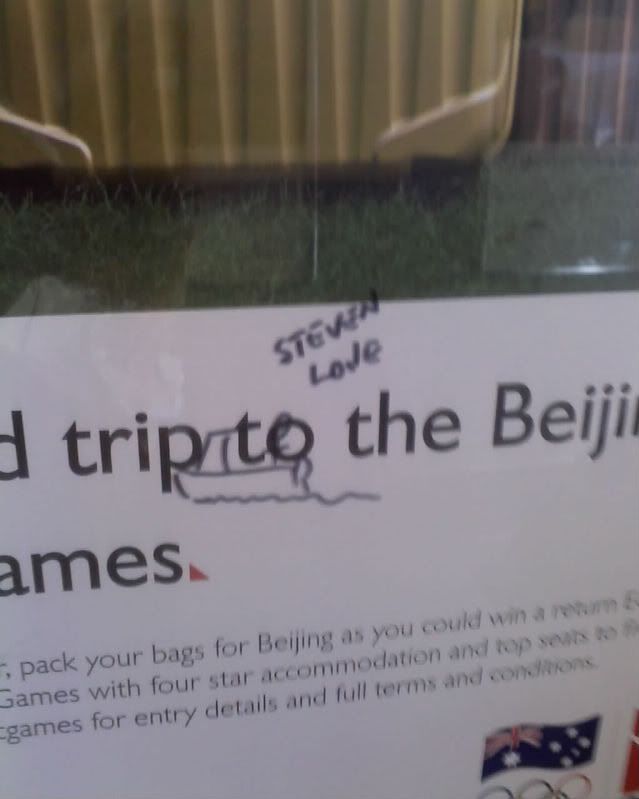 "amen" I thought, and boarded the plane.