WESTERN AUSTRALIA, PART TWO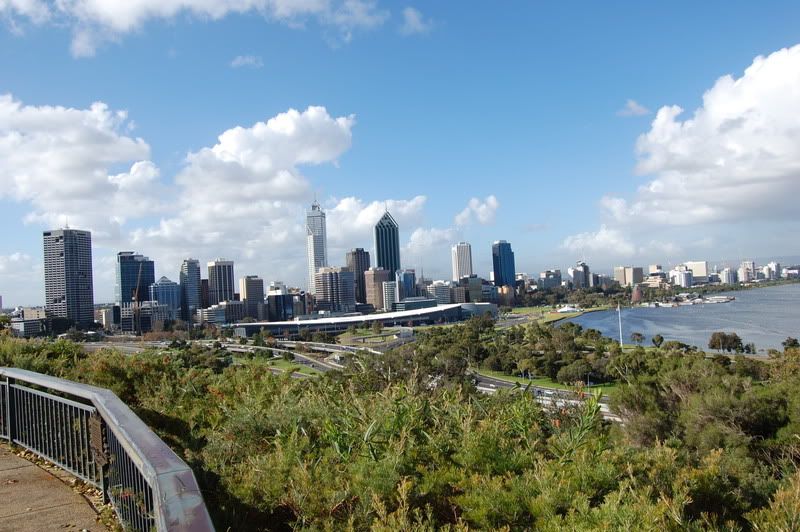 Stevie and I made our first trip to Perth where we stayed a couple days with Chris & McCracken, and a couple days with Bob, and his cousin's wife and adorable new child. One morning Bob took me for a walk in Kings park which has gorgeous views of Perth, gorgeous gardens, ponds, trees and walkways. It was hard to pick only a few photos from this romantic little walk. This image is of the city of Perth.
This is DNA tower. Bob took me to the top of this fun little tower, where we shared more romantic moments.
Late that night, Bob drove me to this fantastic little eatery known as Alfred's Kitchen, you order your food (I had a delicious steak burger) at the window and then hang out by the bonfire, the benches around that little fire pit are the only seating, and on Friday nights this place goes off. They also have a very sweet chalkboard menu, I have a postcard of it, but I don't have a scanner, just ask to see it when you next see me, its very fun.
After eating, Bobart's acute eye caught a little discrepancy in 'ol Alfred's supposed founding time, the big photo on the right was taken in 1989, when they decided they had been around since 1953, the big photo on the left shows Alfred claiming to have been around since 1946, hmmmmm puzzling indeed.
The following evening I met up with Zack Sofoulis whose hair has not been cut since I saw him 6 years ago. We convened at the airport where he had just arrived from work on the Mines. We hopped in the car with his friend Shannon, went back to her place and prepared to go out clubbin'. Zacks younger brother was nice enough to come pick us up and sober-cab for us and we had a grand time. We went to a club called: The Deen, we were there for hours and hours. Things were going swell, until the club owners noticed (I believe anyway) that I had not been ordering drinks for quite some time, they decided that (I believe anyway) they did not need another male body in the joint, especially if he wasn't giving them money, and kicked me out. Nothing new, I did my usual walk around the block, took my top shirt off, and walked back in. I was in the club for probably an hour when the bouncer that threw me out saw me again. He got upset and, more forcibly, threw me out a second time. This time into the arms of two police officers, who I promptly punched in the face. This brawl went on for a few minutes producing a bit of blood. When all was said and done I earned myself the above ticket.
The above ticket was not written for punching a cop, because I did not punch a cop, that was a lie. I did get a ticket however, and that is blood on it. But the ticket, (for re-entering an establishment from which I had been banned) will not be paid, at the suggestion of the police officers who wrote it for me. A nice little souvenir.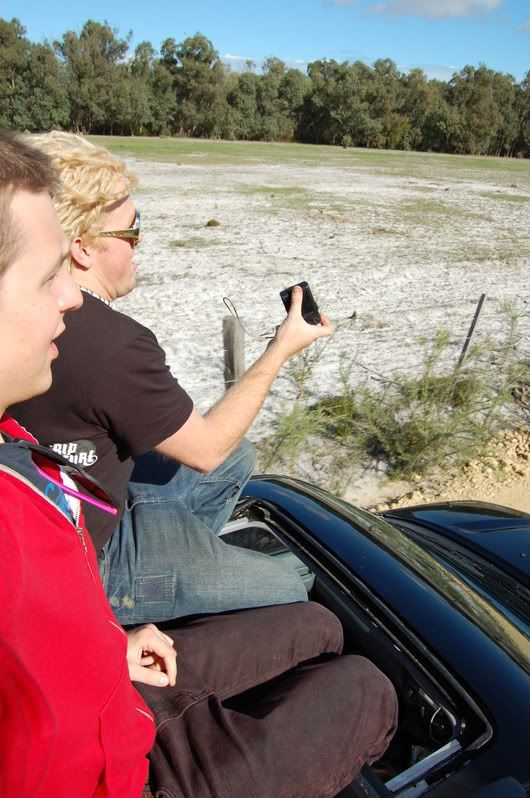 The next morning I did not wake up.
The next afternoon we woke up and decided to take a drive to a part of Australia known as "The Wedge" We drove about 100k south, with a quick detour to see one of Zack's plots of land that he, Shannon, Shannon's dad & Zack's dad have purchased. The above photo shows Zack and I riding on the roof of Shannon's rav4 (sorry mum, but we were very safe I promise) tooling around their property.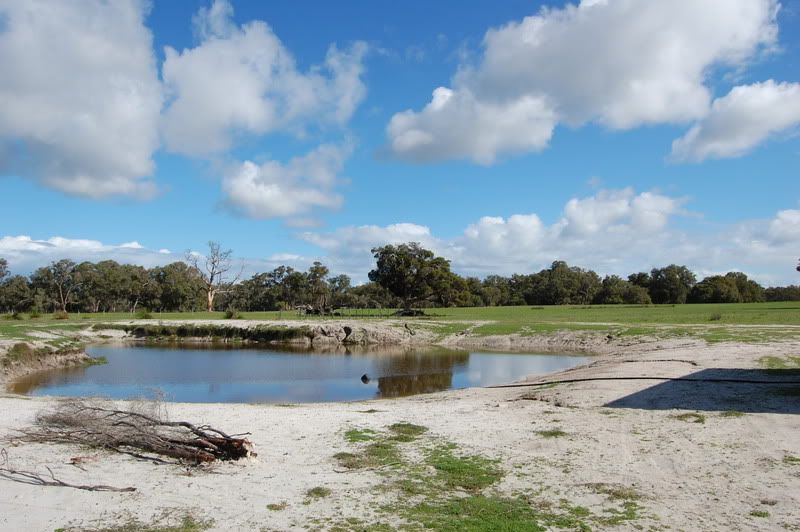 This is a little pond on Zack's property, it is chock full of sweet trees.
We left the property and drove to Wedge, which is amazing, gorgeous and full of sand dunes. To access it you must have a 4 wheel drive, you drive along the beach, the waves creep up to your tires, and then you drive up and over dunes, this really was fun.
Here you see me holding up a dead stingray, we found this on the beach next to another dead sting ray. Its actually quite sad because they were clearly killed, and I have no idea why I look so happy.
This is the coastline we drive along, words cant describe the freedom and fun one feels as they careen along the beach. We were almost all alone and there were storms in the distance, which were beautiful, but it was sunny and perfect where we were.
Driving up, over, around and down sand dunes in an unstoppable little 4WD was more fun than I ever could have imagined, also, never will I make fun of Rav 4s for being ninny girl cars, this thing was a champion, nary a dune could slow us down.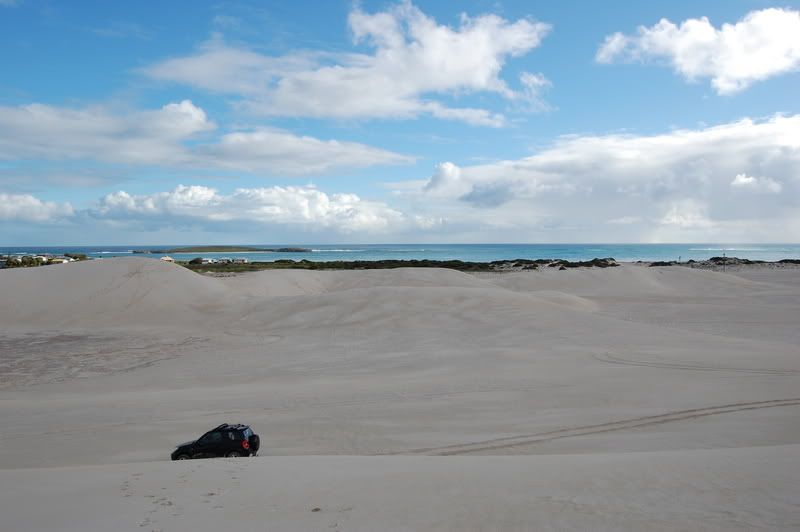 The rolling dunes, they go on and on and on...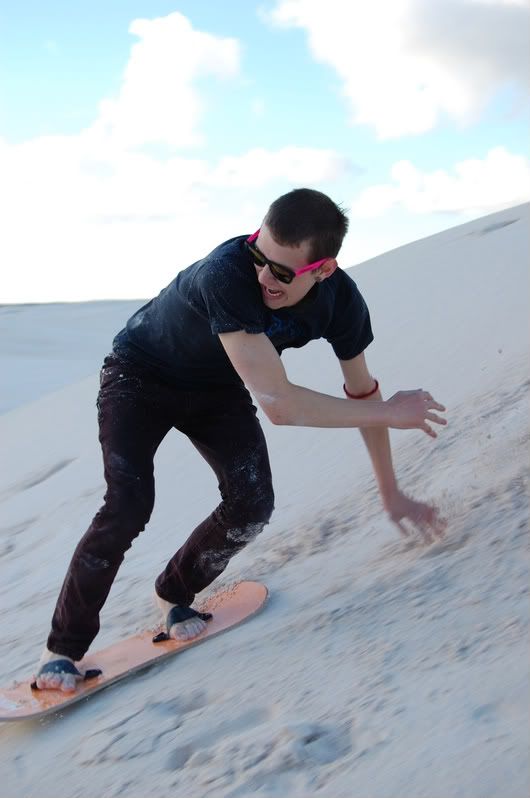 Zack and I rented a sandboard, It was fun, but we quickly learned that it was more fun to be towed behind a car, mostly because the sand was slightly damp from the rainfall earlier in the day, which made the board a little too sticky to really rip on just gravity's force.
This is Zack and I, in front of a beautiful sunset, we would like invite you to our wedding.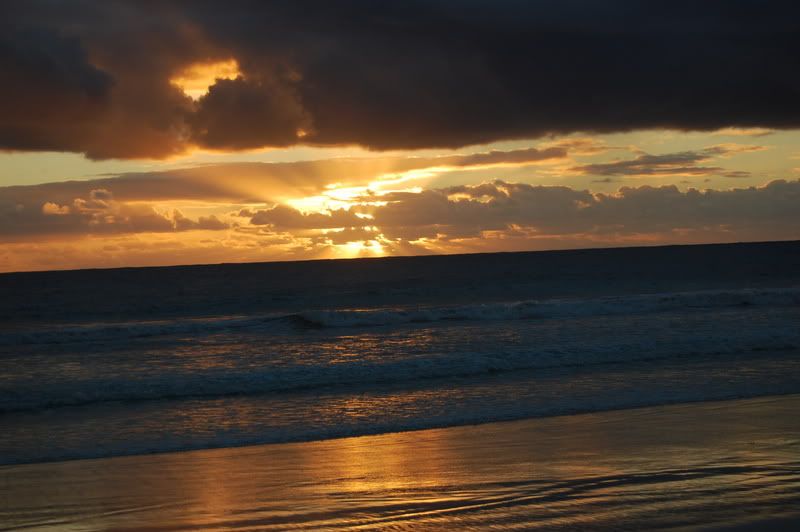 This is the beautiful Wedge sunset, sans two goons posing in front of it.
MUSCLES
Please don't actually watch this video, actually do watch it, but understand that it was not made by anyone affiliated with the man from Melbourne who goes by Muscles. He is pretty fucking awesome, I love him and I want to have his babies, if he just comes here I'll kiss him... He also has a sweet album cover designed by Jonathan Zawada. This track will forever remind me of Stebie's 21st, where he was dancing, taking his shirt off, and letting ice cream save the day. It was worth every penny of the $100 dollar cab ride there, back and there again.