ENJOY

YOURSELF...

TAKE ONLY WHAT YOU NEED FROM IT.
No words, photographs drawings or videos could really describe these past few weeks, but I'll give you bits of all to lead you in a direction. Its beautiful how indescribable it all is, thank god these atmospheres are intangible and cannot be pinpointed by any object or gesture. You've just gotta believe, cause its magic ya know.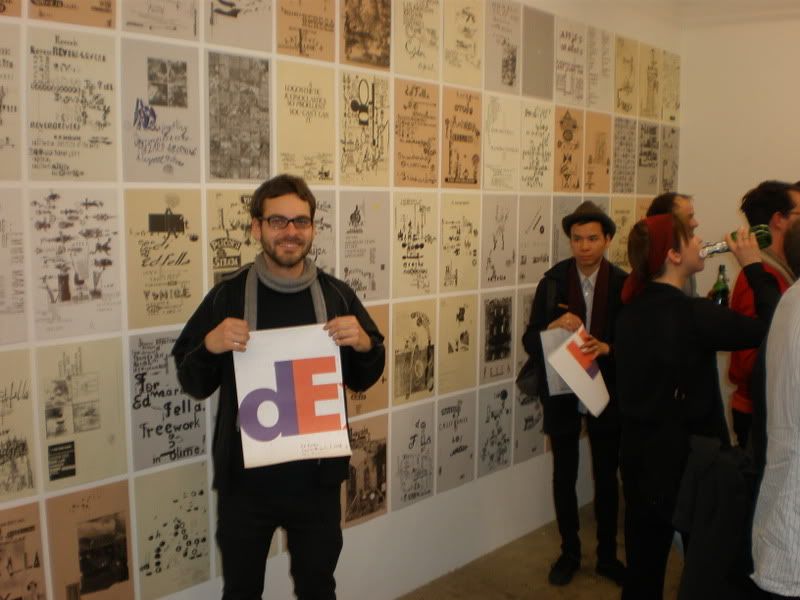 We took a break from the studio for a few minutes to check out the Ed Fella Exhibition a few blocks away from the studio at
The Narrows
. Ed is holding the Ed poster in front of Ed's posters... Tin is looking ominous in the background.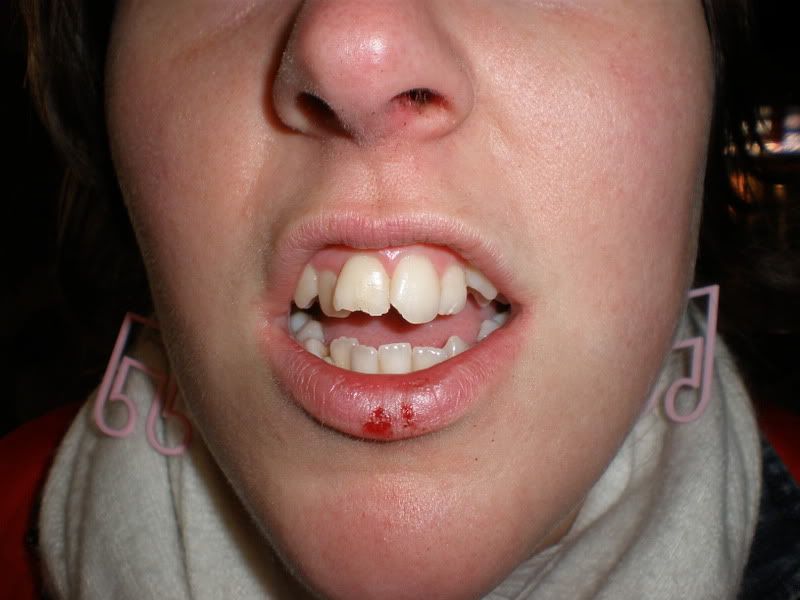 We were just about to leave when Isobel showed up. Moments earlier she had hit a pot-hole and crashed her bike, she was pretty shaken, and needed some medical attention, so we trammed it to the Dental Hospital.
I can imagine that the Dental Hospital is pretty high on a lot of peoples most-feared lists. I'd say they've taken that into consideration by having beautiful displays of these macabre-looking ancient dental tools as you first enter the lobby. On top of this, we got up to the waiting room to find some doctor show playing on the televisions, depicting a man in scrubs, yanking his tooth out with pliers.
These are more utensils used for dental work, strategically placed to be one of the first things you see upon entrance.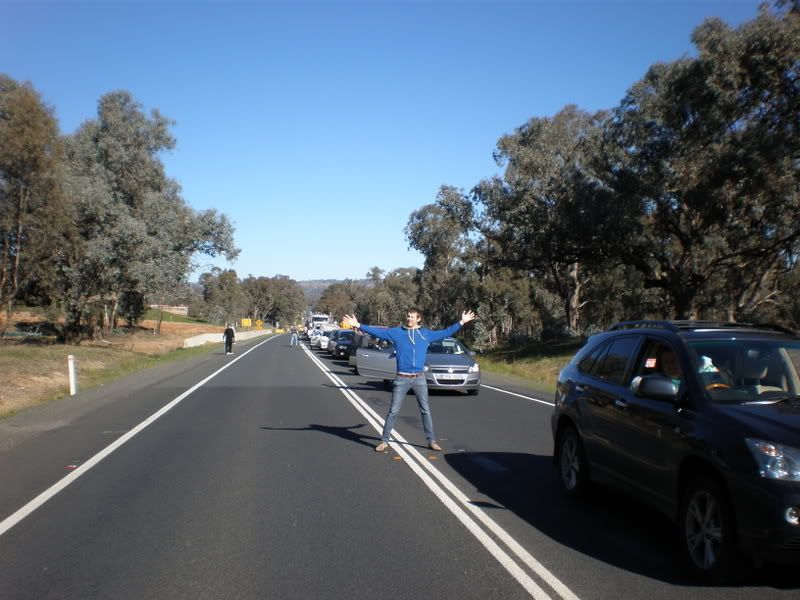 The following weekend was our trip to Sydney to meet up with all the Allen cousins. Here I am, standing on either side of the
Hume Highway
, the traffic was pretty bad, so I woke up, got out, Rachel snapped this picture of me, Then I got back in, and went back to sleep.
When I woke up again, we were in
Gundagai
,
the Premier Horse Town.
We got out, ate lunch amongst a bunch of cows (they were grazing just steps from us). Gundgagai is fairly famous, considering its tiny size.
This is the
Dog on the Tuckerbox
. This monument comes from Jack Moses' Poem,
Dog on the Tuckerbox,
and resides as the song says, [roughly]
five miles from Gundagai
.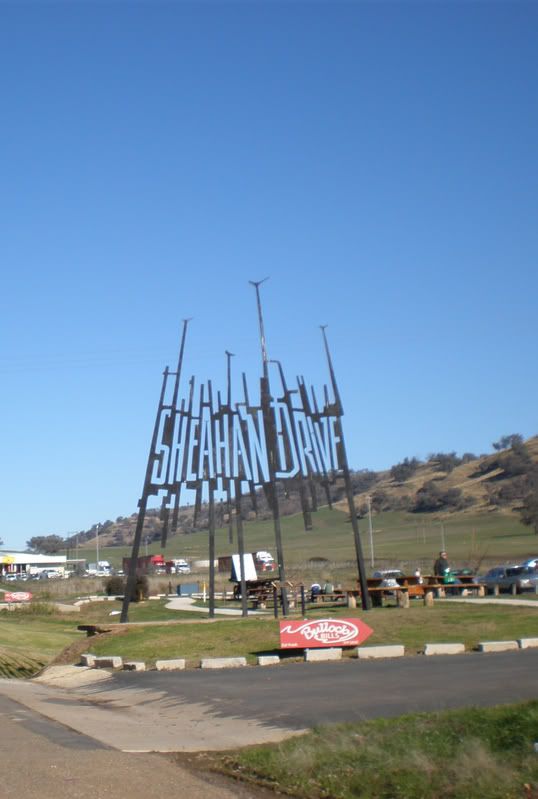 Sweet sign, at the Dog on the Tuckerbox monument.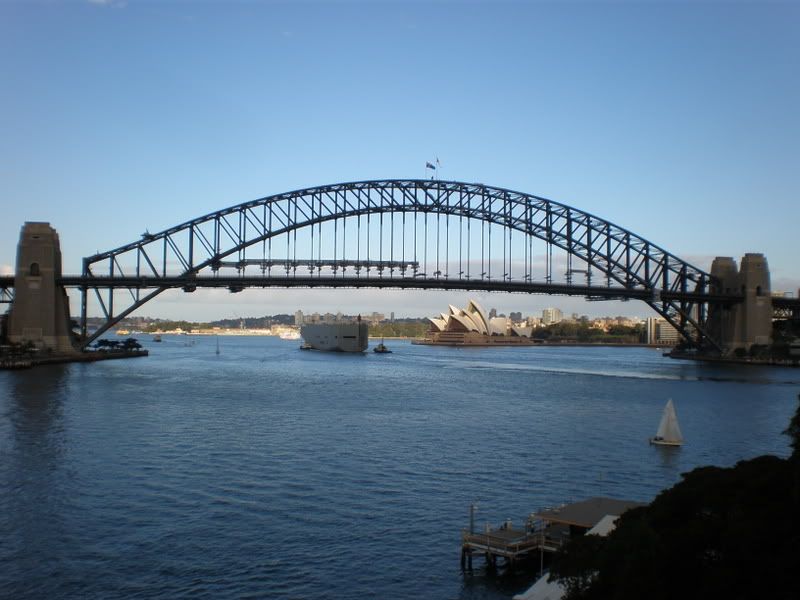 When we finally got to Sydney, we had the most beautiful view, the
Harbor Bridge
, the
Opera House
and an enormous ship.
Lilly and Alison arrived and we had some food and drink. Pictured above from left to right are: Tim, Rachel, Lilly, Michael (my Grandfather's brother #1) Alison, and Kim (my Grandfather's brother #2). Also, as much as this photograph looks staged, or posed or like I am using a strobe, or its a funny freeze frame from a family film, it really isn't.
Following the reunion, I hopped a train to Gordon station, where I met up with this fine looking chap Travis Cornell and his family, for his 18th birthday. We ate at an amazing resautrant called: Ribs & Rumps. Please take note of Trav's little picture on his cake, quite adorable.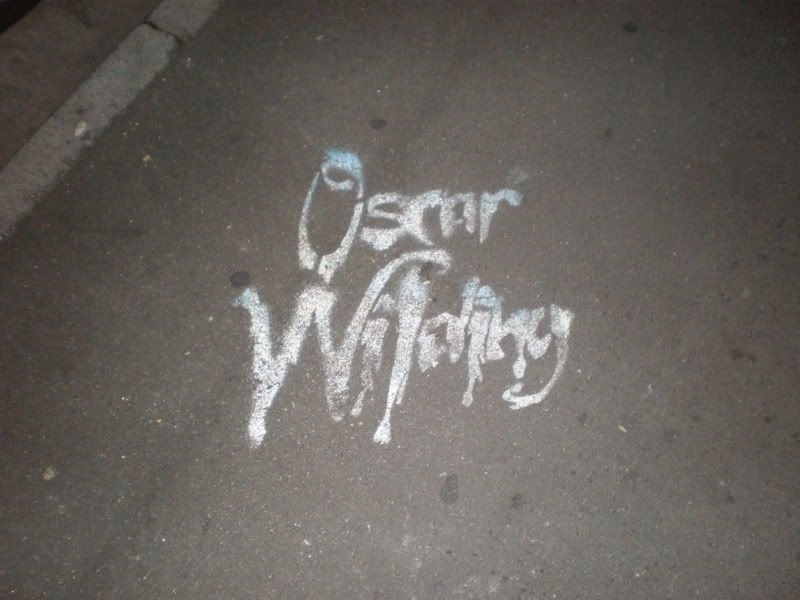 After dinner, Trav, Luke, Lou & I walked to
Oxford Street
for Trav's first legal night on the Town. I found this stencil, and thought it was rad, really rad.
I also found this sign, I also thought this was rad.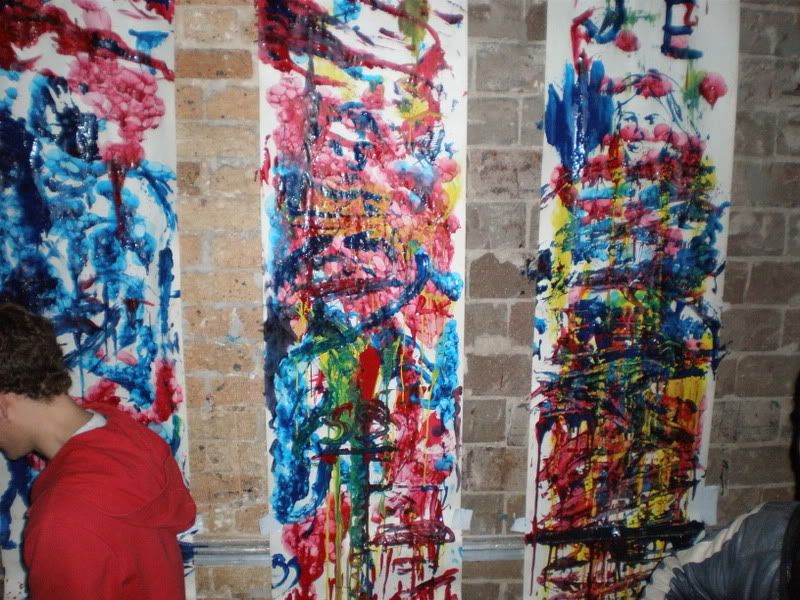 The first bar we went to, had a live band upstairs and a DJ downstairs. They also had these pieces of paper and paint, and people were encouraged to do whatever they wanted on them, as you can see, this was perhaps not the most artistic bar... or it was getting late, or both. Regardless I did approve of the colors.
When I came home, this was the beautiful sight I saw,
Luna Park
, in all its nighttime glory. Unfortunately my camera battery died shortly after this, and I was unable to photograph for much of the rest of the journey. However I do have some treats to share (snow! 105 year olds! fun!) over the next few days... stay tuned & stay moist (as Stebie C always says).