AW YEAH


I very neat lil' video
, actually made as a response to a video that isn't quite as cool.
AMAZING INSIGHT INTO THE FASCINATING CONDITION OF AUTISM
WIRED
has a truly amazing article regarding Autism. The article actually features insight from a girl with autism, analyzing a video of herself. This is amazing, especially due to how it contradicts much of what doctors have previously speculated about this incredibly mysterious and intriguing mental condition. Autism has been something I have been fascinated with from a young age, having family members and close friends with varying levels of this condition I am thrilled to have more insight on the topic and am also (just slightly) pleased by the final recognition of autism as not so much a disorder but a difference, something I've always felt was the case.
EVEN THE AUSTRALIAN YABBIES ARE BRILLIANT MINDS.



Memory. A beautiful, fascinating and entirely foreign concept.
Here
is a fascinating little article about facial recognition amongst Yabbies. Thats right, crustaceans that recognize one another (usually this results in a fight, how human can these creatures get?).
WHEN NARCISSISM REALLY PAYS OFF.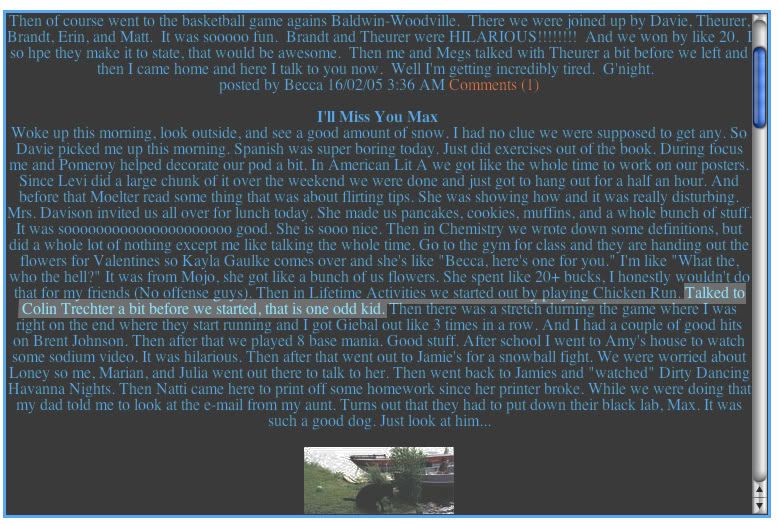 Of course I am guilty of the occasional google of my own name. Doing this usually garners very little of interest. This above photo however, is perhaps, the one exception. This is a blog from a girl I went to high school with, if it is the lady I am thinking of, she was a grade younger than me, and apparently a pretty avid blogger. This very old post has a quick off-handed remark with my full name, I know its totally egotistical, but this just makes me beam.
KEN MEIER VIA SPACE COLLECTIVE


The picture above is the work of
Ken Meir
a designer whose work I came across on the infantly interesting and far more worthy of a blog post (but not as easy to find a nice image to represent it)
SpaceCollective.
I highly recommend looking at both of these sites, and really do check out the gallery of
SpaceCollective.