•Gad I love live theater
•And you know what else I love, my friends, thanks guys, I love you.
QUESTION
MUST A PERSON:
TRANSCEND GENERATIONS, BE TIMELESS IN ORDER TO BE CONSIDERED A "GENIUS" (PLEASE DESCRIBE YOUR DEFINITION OF GENIUS)
............-or................
BE RELEVANT TO THEIR TIME AND PLACE, ENOUGH TO HAVE AN IMPACT. ESSENTIALLY, THEIR RELEVANCE IS PART OF THEIR "GENIUS"
HAPPY LITTLE VEGEMITE

JUST CLICK
HERE
AND CRANK YOUR VOLUME IF YOU ARE NOT ALREADY FAMILIAR WITH THIS GEM (IF YOU ARE FAMILIAR I DON'T NEED TO TELL YOU TO CLICK, YOU'RE PROBABLY ALREADY THERE)
GAP MINDER
Anthony Esquivel
is doing his GD3 project on
this
, which, my friends, is AMAZING! I highly recommend watching
the TED conference demonstration.
Beached Ocean Liner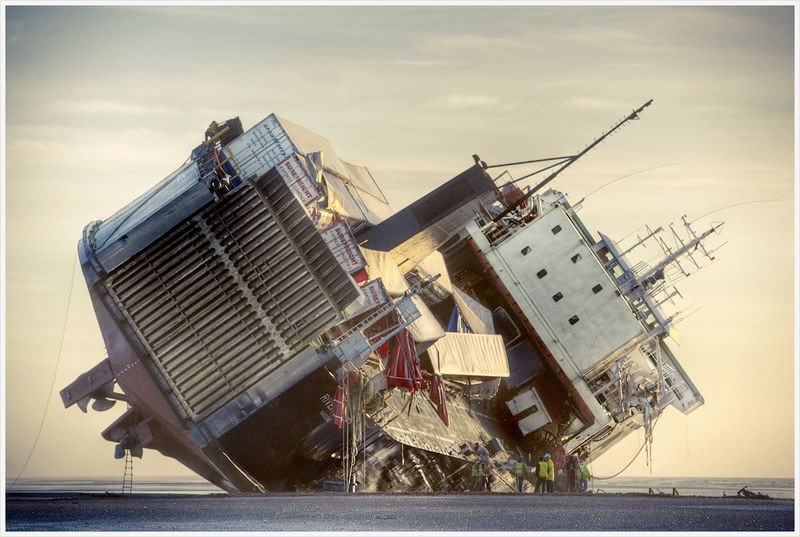 David Nightingale
is a photographer? I think this is one of the most stunning photographs I have seen in a very long time. And not to pull this card again, but I can't speak much for the rest of his work, but you be the judge of that. What I can speak for is my strange love for this image... but I shan't.
SLAVS AND TATARS
To continue in this stream of shamelessness in this post. This is direct, hot out the eudora inbox from mr. EMMET BYRNE himself. Thanks? Sorry? Thanks!
Here it is, in his very own words:
I think you might like this, if you haven't seen it already: http://www.slavsandtatars.com/
Make sure to download the PDF.
& yes, really do
make sure to download the PDF.
EVEN DYLAN AND AIMEE COULD ENJOY THESE
Right Guys?!
So how sickly sweet are
these
? Well they are designer fish tank sweet. They require added CO2, grow lights, and tons of dedication.
SKETCHERDOODLES
been doodlin' sumb dumb drringsketches... please try to enjoy these poor photographs of them.