This is Mum, she survived Cancer.
_

One year ago today my mother and father traveled south to Rochester Minnesota. This was to be the first of dozens of voyages to the Mayo Clinic located there.
One year ago today, my mother underwent her first surgery to remove the cancer that had developed on her ovaries.
One year ago today the thought that my mother had a very dangerous and difficult form of cancer was slowly sinking into my conscience.
Last night my mother gave a 10-minute speech at the Relay for Life event held in my old High School. I went to this event in a whirlwind and it was not until I entered the gymnasium full of people that it hit me. This was the first time I had been to this annual event as the family member of a survivor.
I have attended Relay for Life for many years. I have always sought to support 'the fight against cancer' and have felt good about going to this event. I don't think anything could have prepared me for the intensely foreign feeling that collided, head on, with my chest as I walked into my high school gym. – I have been extremely lucky in my life, I have managed to avoid tragedy and have led a very privileged, comfortable and healthy life. Which is why I believe I was so ill prepared for both the news of my mother's cancer, as well as that feeling of gracious relief I felt as I realized what this event was organized for, to allow more people feel that joy of life.
I watched as my mother took the stage and spoke to the packed bleachers about her 'cancer story'. True to my mother's fashion, she did not dwell on herself very long, but quickly turned her speech into an educating opportunity, speaking frankly about what signs people should be aware of, so as to catch cancer earlier rather than later. Also true to my mother's fashion, her speech was delivered in an animated, hopeful and captivating manner. I watched my mother speak, and as she did, thanking all of our friends and family members for their endless help and support, I internally thanked my father profusely for demanding I photograph the proceedings. I hid my swelling, teary eyes behind the lens and snapped photograph after photograph. I sat on that wooden floor that I hadn't touched for 2 years, and felt incredibly small compared to all of the stories surrounding me.
This may be a slight deviation from the typical pace of posts here, but I feel this an incredible and important moment to commemorate, if for nothing but my own records. I would like to again thank every person who contributed their thoughts, cooking, hands and wheels to me and my family. You are certainly due a massive karma payment.
I am reminded of a
letter
written to the year 2007, that most importantly states:
"...2007, you weren't all negative. In fact after the dust clears from the wreckage of this year, I am left with this simple fact: I still have a Mum, and it appears I will for a while longer..."


Amen, and what is even more wonderful: those of my dear friends who have faced similar struggles in the past year seem to be in a similarly good position.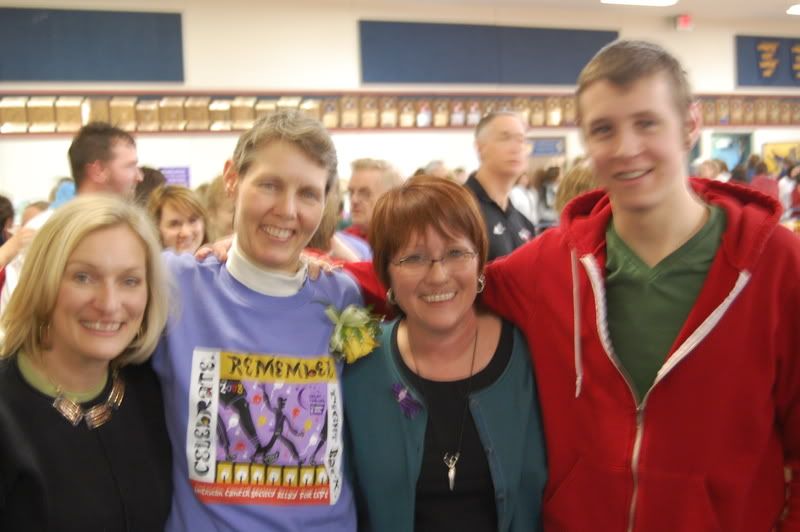 This is a blurry picture of Kelly, Mum, Robin and me. Kelly and Robin are our dear friends, words cant express my gratitude for all of their love and support.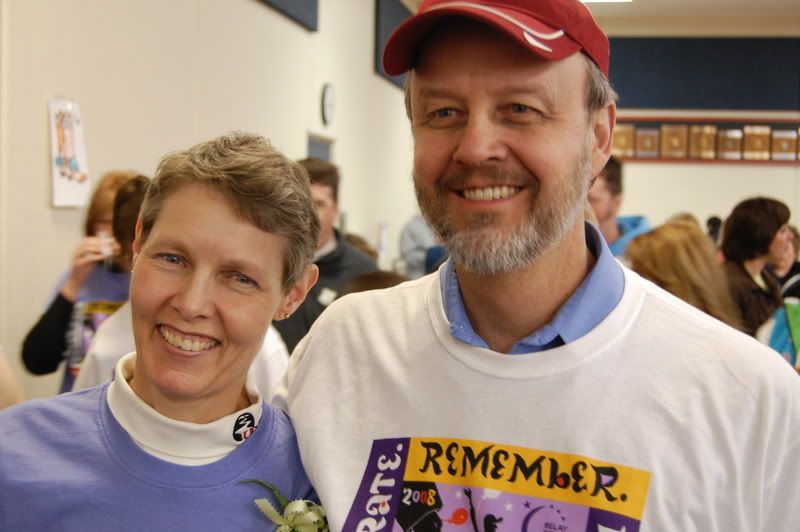 This is mum and dad. Dad is very happy that mum is cancer free.
Thank you.
Love,
Colin