This is the train station where I catch my train into the city every morning (or afternoon, depending on how late we stay)
This is the Nicholas Building on Swanston St It is a Greek Revival Building designed by Harry Norris and constructed in 1925-1926 with an extension that was built in 1939-1940. It is home to some of the most affordable artist studios in Melbourne, and the last two lift operators in Melbourne, they are lovely and go by Dimitri & Jane.
I cut into the Cathedral Arcade to catch the lift to the 8th floor.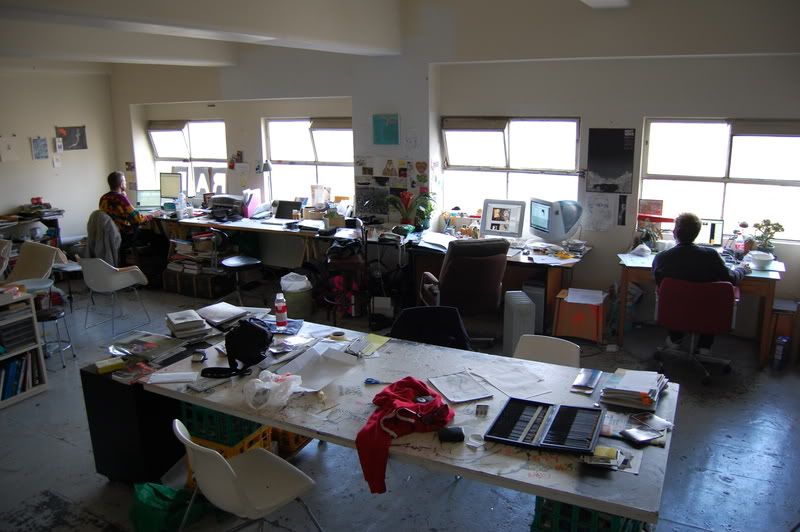 Two right turns later I am here. That is Aaron (he shares studio space with T & E) in the far left corner, then its my spot (empty) then Tin's spot (also empty) and then there is Ed in the right corner.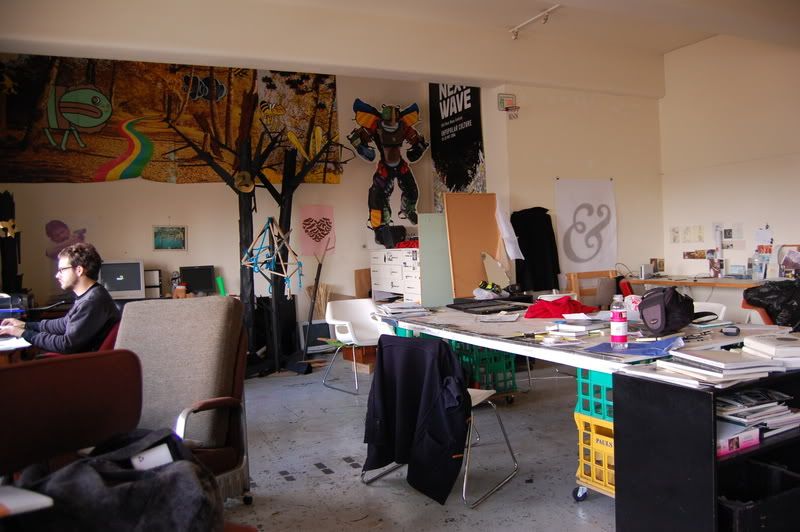 Ed & an ampersand.
This is a bit of the view from my desk, the big mustard building is Flinders Street Station, where I catch my ride to and from the City.
When we get hungry, we take a trot downstairs, sometimes we see street performers (pictures of them later, there are some amazing ones) sometimes we see other entertaining things, like security vehicles with boots.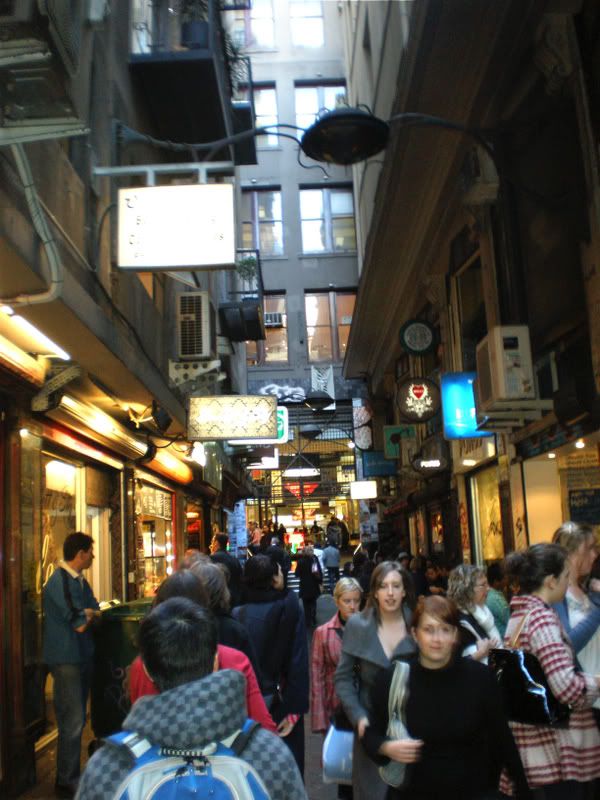 This is where we most commonly go to get coffee and eats, it is called the Centerplace laneway and it is a lovely, often packed little alley filled with coffee shops, delis, a diamond & gold exchange place, boutiques and other quasi-European treats. Melbourne is full of these laneways that would be deserted avenues, home to big rats, litter and a random junkie in most cities I'm used to seeing. This is a much more desirable use of the space.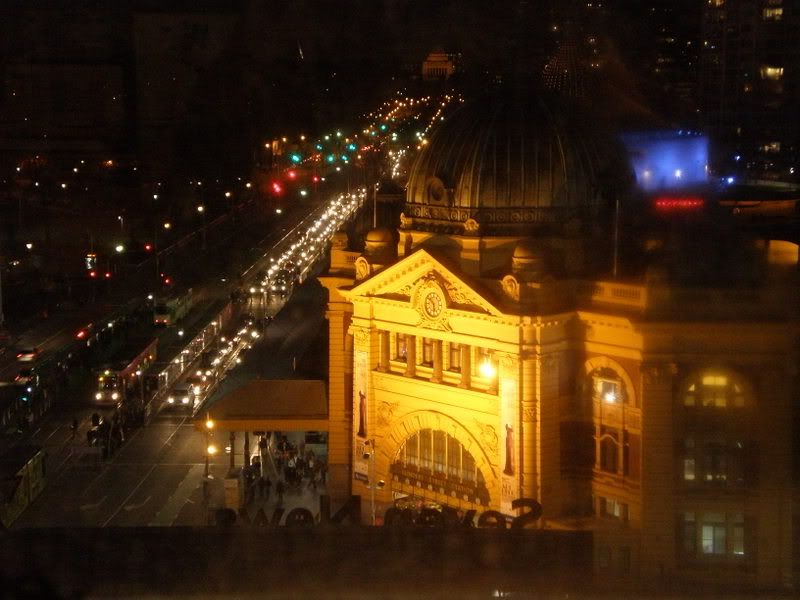 We work late into the night and my view of the Flinders Street station begins to look like this, sometimes I get distracted watching people cross the street where all the cars are lined up, all the headlights shining forward and the legs walking across create these amazing, long, flickering shadows that dance down the street for a few chaotic seconds. It is quite mesmerizing, and when I figure out how to use my new camera* I will take video of it.
After a long hard week, we like to unwind and go out. We went to a bumpin' warehouse party last weekend, it was fun to see
Liz
dancing on the shelf in the background, but I was worried she might
fall
.
I have said this a million times, and I will probably continue to say it, but Melbourne bears a striking resemblance to Minneapolis, and that has been very fun, and comforting, of course it is vastly different, but the little things, such as ending a big night out with an early morning dance party are the warm, familiar hugs that make me love this city even more. Here (from left to right) are Jay, a girls whose name I cannot remember, Cath, Tin & I, if you must know we were singing All4One's "I will be right here waiting for you" but it looks like we are singing something waaay more epic. It was pretty fantastic.
*I found this camera in the gutter as we walked up to the warehouse party, I spent the next few hours feeling very guilty and asking if anyone had lost a camera. Tin and I began looking through the pictures on the camera and were horrified/giddy/relieved to see that the previous owner was... well he seemed to be a sleazy womanizer who liked to purse his lips and pose with an ever changing cast of girls at the bar... I almost want to upload one of the pictures of the guy, but I don't have his permission, so I really shouldn't.
Rest assured though, if we can find the proper owner, they'll have their camera back, if not though, this little point and shoot gem that I've been after for ages, is mine. So if you know this guy, and can show me other pictures of him, and the other people on this camera, let me know, so you (or whoever this belongs to) can have their shooter back.