Sunday April 6

th

, 2008

10:00 am
I should have been waking up, so as to be prepared for my parents to pick me up within the hour, instead I opted to ignore my alarm, ignore the voice that said "get up, and pack your things, ignore my mothers phone call and ignore the fact that I had done nothing to prepare for the trip.
12:05 pm
The pulls out of the station, just 5 minutes behind schedule, we made it in time, despite my slow start, and insistence on printing several things before we left. I spend the first couple hours sleeping, and the rest of the trip writing.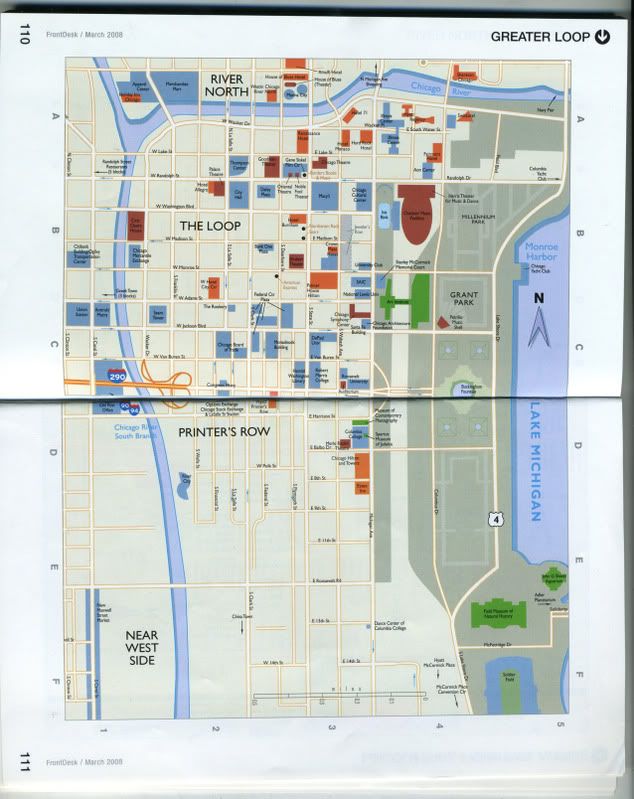 8:20 pm
Mum & I check into the Club Quarters Hotel, which is located in The Loop and undergoing massive cosmetic surgery. The hotel has ridiculous hallways, like confusing ridiculous. We find our room (luckily its a fairly easy find, unlike most other rooms that spider off of random corridors) set our stuff down and immediately search for a place to dine. I shower, and find out that not only are 2 for 1's and drink specials are pretty much non-existent in Chicago, but so are restaurants that are open after 8pm. We ask the man at the make-shift front desk, and he tells us that, other than McDonald's, there is only one restaurant that is open. We opt for the one open eatery in the Loop.
9:15 pm
We are enjoying wine, bread & olive oil at the Italian eating establishment, aptly named the Italian Village, a restaurant that made (and served) Italian food! Mum and I were a little underwhelmed by our wine, but the food was pretty good, can't say it was as good as the first date that played out at the table next to us...
"...my buddies family were carnies, you know, so like, yeah, couple times a year we'd just, YEAH
sooooooooper
unsafe rides, and just, like, yeah,
soooooooooper
classy (sarcasm) but it was just fun ya know... just a lot of fun..."
I felt guilty after seeing the ticket, but not guilty enough to reach for my wallet, sorry mum... next time?
11:00 pm
Return to the hotel, and while mum checks her email, Colin reunites with cable television, back to back prison documentaries. My enthusiasm for learning about the intricacies and social hierarchies that exist in prison often make me wonder what keeps me from just claiming my place.... then I see my ribcage and am reminded of what happens to wieners like myself in these ever intriguing institutions.

Monday
April 7

th

, 2008
3:00 am
Go to bed, after an fairly intense night.
4:00 am
still awake
5:00 am
still awake
8:00 am
I am woken up, and immediately wonder if I got a couple hours of sleep, or a couple of minutes. I shower and mum and I go down to the bar connected to our hotel for breakfast. I ordered a kids breakfast with scrambled eggs, toast, and bacon. I try to dress respectably so as to impress the Aussie Consulate for my interview.
9:50 am
Mum and I hurry out of our hotel room, we are due in the Consulate in 10 minutes, and we have about 8 blocks to walk. We are, unsurprisingly running late, but in a surprisingly good mood.
10:15 am
My "interview" with the consulate takes place through bullet-proof glass and is extremely casual, matter-of-fact, but all the while human, classic Aussie. We exchange documents, photos, money and the whole process takes bout 10 minutes. We found out however, that my mom can also be a dual citizen. This is good news, and comes at a good time, for the first time in her life, mum may be able to vote in the USA! She'll be writing in Mitt Romney I'm sure....
that is
a joke.
11:00 am
We are walking down Wabash towards the Apple store, with plans to hit up some book shops, get me a new battery, and snag some lunch before our
Megabus
leaves at 3pm. As we approach a bridge over a Chicago River canal, on Michigan Ave. we notice a large gathering of people on the bridge, looking into the water about 30 feet below. My mum was the first to point it out and said something like "look at all those people... must be something interesting going on..." And indeed there was.
This is the site we were greeted with when we peered over the edge of the bridge. This image, taken from the
Chicago Tribune
shows the CPD pulling a very large, African American man's dead body from the water. The man's carcass had been hooked by one of the police officers, and was being dragged around by the boats as they assessed the best way to lift him into the boat. Only his chest, head and arms were visible above the water, his head sort of hung back and his eyes were closed. Apparently his body had been in the water for about a week, he had drowned (although the details of the drowning are not yet known, homicide, suicide & accidental all seem still to be plausible) and was found by a Graffiti clean-up crew. My mom had little interest in loitering around to see how the situation panned out, so we continued on our way.
11:30 am
We arrive at the only apple store in Chicago (at least the city of Chicago, more exist in the suburbs) and it seems obvious its the only Apple store in Chicago, the place is completely packed. I am becoming slightly agitated by all of the commotion when I receive word that
KATELYN

FARSTAD
WON MERITS! Well done Kate, well done.
11:45 am
Mum and I stop into Crate & Barrel, the highlight of this little trip to
housewareland
is the skittle that someone has tossed onto a decorative display ribbon, out of reach for removal.
12:30 pm
After walking 20-30 blocks Mum & I find the greatest bookstore I've ever set foot in.
Prairie Avenue Bookshop
deals Solely in Architecture and Graphic Design books. They have a monumental selection of used, out-of-print & rare books, as well as beautiful new design books and periodicals. We spend an hour and a half here, and are forced out by the fact that we must get lunch, and catch our bus. I could have spent another 4 hours there, and another.... well, a lot more money.
2:10 pm
The
Berghoff
Café
serves us the best food we've had in Chicago. I had a brat on sourdough with sauerkraut, hot mustard & horseradish. It was terrific, but not nearly as good as me mum's
portabello
, roast pepper, asparagus & goat cheese sandwich. I also sampled the
Berghoff's
very own Root Beer, it was lovely, lots of sass-sass-sarsaparilla. You may recognize the name
Berghoff
, for they are a brewery, with sweet cans.
2:30 pm
A quick stop into Fanny Mae so mum can buy some sweets to bring home as gifts, and for us to nibble on during the ride home.
2:45 pm
We are waiting outside Union Station for our bus, along with 50 other people, horns are going off like mad, a fire truck pulls up, then an ambulance, shortly after that a man is wheeled out of the station, put into the ambulance and they take off. I think about how there is nary a dull moment in this windy city, and then I remember wallowing down town with good friends Zack and JD two summers ago, when we were (luckily) the only three people that were in town that day... seriously.
3:20 pm
Our bus leaves, 20 minutes late, its packed & I catch up on sleep that I didn't get last night. The (white in a do-ragged) man across and behind me keeps talking on his phone, he is undoubtedly inquiring about drugs, constantly saying things like: "Yo, you got anything? Cool I be back on Thursday, set some aside for me? Cool, how much? OK, yeah I take that"
5:30 pm
I wake up, to a more packed bus, and spend the remainder of my trip reading. I got more reading done on this trip than I have in years.
10:15 pm
We make a surprise stop at a Gas Station in Hudson, where our bus driver purchases the above cassette tape. Also, the bus smells suspiciously of Marijuana after our stop, a point I am quick to vocalize so as to make whoever got lifted during the stop, a little paranoid. I deduce that it is the woman across the isle from me, as she makes a noticeable sheepish reaction to my comment.
12:00 am
We arrive at the bus station, 1 hour and 15 minutes late. My father picks us up, and thus concludes my whirlwind trip to Chicago. New Aussie passport, a dead body, and a great book store, this has been an exciting and successful trip.